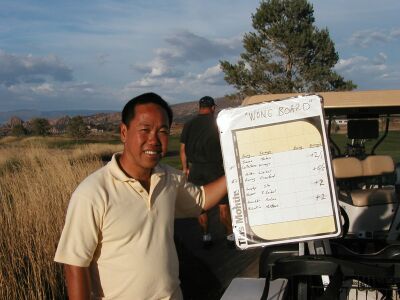 No coin flip in year Two as the Captain representing the losing team of Slyder One gets choice of first or second two selections. Captain Kernagis offered Captain Ewing the first selection and Mike Jensen was his choice. Mike had been playing very well and with a 6 course handicap seemed to be a very nice value. The next three picks were Scott Seibal, Mark Slovensky and Alfredo Castellanos. When it comes to the draft, you never really know what your getting. Little did the Captains know that for these four selections, each would score a future captain but each would also grab a 1-3 player.
Stoneridge - Four Ball
Controversy over a change in tee boxes at dramatic Stoneridge was the issue on Friday as Team Kernagis handled holes 3, 9 and 12 a bit better and got off to a 3-1 start. The swing match of the day was Kernagis/Crawford versus Dunphy/Ewing. Dunphy and Ewing were up 1 going into the par 3 17th but when both overclubed into the brush behind the green, Kernagis and Crawford got the hole and the momentum going into 18. Poor second shots on the par 5 18th by both Dunphy and Ewing sealed their fate and the match went to Team Kernagis. Arriving at the clubhouse, more bad new for Captain Ewing as his ace selection lost his second fight of the day to Mike Paulson. Team Keragis 3 - Team Ewing 1
Antelope South - Foursomes
Close to bringing in alternate Ted Wong, Captain Ewing decided to roll the dice and stick to his original roster. Team Ewing came out determined to avenge Friday and did, winning 3 of the 4 alternate shot matches decisively. Almost sweeping, another match for Team Ewing slipped away as Jensen and Buechler after being up 1, lost the last two holes to Matthews and Crawford in an exciting finish. At lunch break, Team Keragis 4 - Team Ewing 4
Prescott Lakes - Four Ball
For the second straight year, Prescott Lakes was most likely the deciding venue as the afternoon best ball matches all went to Team Kernagis. The Scott Seibal/Crawford team crushed Miller/Ewing but the other three matches were all decided on the long par 4 17th. As quickly as Team Ewing evened things up, they fell back 4 points. Team Keragis 8 - Team Ewing 4
Antelope North - Singles
A four point deficit is tough but in singles with 8 points available, you never know. Captain Ewing tried to inspire with the Crenshaw "I've got a good feeling about this" but the four points was too much to overcome. Team Ewing came out with some fire as Harper, Dunphy and Jensen (finally showing up) all posted lopsided victories but Team Kernagis threw a few blowouts back at them with Kernagis and Scott Seibal victories. Gene Miller symbolized Team Ewing's comback spirit by overcoming a 4 hole deficit to beat the previously unbeaten John Crawford 2 and 1. Two close matches, which were needed by Team Ewing to send the Cup to overtime, slipped out of reach for Team Ewing as Matthews edged Captain Ewing 1 Up and Terry Seibal pulled off the upset of the weekend with his trusty 5 wood by defeating Alfredo Castellanos 2 Up and avenging his Slyder Cup One defeat on tree lined Antelope North. Slyder Cup Two finished 12-8, Team Kernagis over Team Ewing, and solidified the event for years to come.